THE BEST PLACE TO MAKE WAVES
We offer a variety of aquatic activities to serve your needs, no matter your age or ability
We offer a variety of aquatic activities to serve your needs, no matter your age or ability, from water fitness classes, to post-rehabilitative use of a therapy pool, to private and group swim lessons. We also offer open swim time during most of our operating hours. Enjoy our three beautiful pools:
 25-yard Junior Olympic pool, perfect for recreational and lap swimming
Therapy pool heated to 88° for post-rehabilitative therapeutic use and general exercise
Hot Tub heated to 102°, a great place to relax after an invigorating workout
For class times and additional info, please refer to the schedule, scroll down for Swim Lesson information, or contact our friendly staff. We would be delighted to hear from you!
Let the water support you while you strengthen your core and amp up your cardiovascular fitness with this high-energy yet low-impact workout. Improve circulation and get in your daily exercise without compromising joints.
Give your brain and body a workout at the same time in the comfortable and safe environment of our heated pool. Balance on noodles, play with balls, and exercise your brain synapses as you have a great (and fun) total-body workout.
Move to fun music with a low-impact, high energy exercise blending dance moves in the water to create natural resistance.  Results in less impact on your joints.  Core toning combined with muscle strengthening exercises help you have a fun total body routine.  Aqua-Tabata combines fun music along with intense movements for a whole body interval fitness class.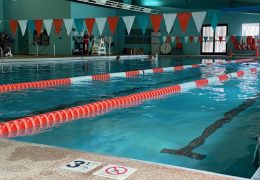 During the time we set aside for lap swimming, we reserve all five lanes for swimmers. Strengthen and stretch your muscles in the safety and support of water while getting an amazing workout at the same time!

Currently providing
Private Lessons Only

Private lessons are available for all ages – children who need one-on-one instruction or adults who would like to learn to swim, are fearful of the water, or would just like to stay fit and enhance their quality of life. Each lesson lasts 30 minutes.